Walker Season 2( Part 2) : When does it release on The CW?
The Walker Season 2( Part 2) is a western drama television series that aired on The CW and it was renewed for a second season. Walker, Texas Ranger, the original series ran from 1993 to 2001. The titular role is portrayed by Jared Padalecki as Cordell Walker. Walker Season 2 (Part2) is about an undercover agent who returns home to find that there is harder work to be done at home. Walker must find ways to reconnect with his two children and find ways to deal with the conservative family. He becomes suspicious about his wife's death too.
Fans are eagerly waiting for Walker Season two to release on The CW. Walker is a television series that I recommend watching because it keeps you hooked from the beginning and you just want more when episode one ends! The series will keep your eyes glued to the screen wanting more. So stay tuned in with us right here for more details.
Will, there be The Walker Season 2( Part 2) on The CW?
Yes, Walker Season Two has been renewed on The CW. Fans are happy to see that Walker is being well received, so there will be a continuation of season 2.
When does Walker Season 2( Part 2) release?
The second part is slated to release on January 27, 2022. There are 2 months left for the release of the series.
Who are the stars on Walker Season 2( Part 2)?
The main characters are expected to return.
Jared Padalecki as Cordell Walker
Lindsey Morgan as Micki Ramirez
Molly Hagan as Abeline Walker
Keegan Allen as Liam Walker
What is the storyline of the series?
The series follows the story of Cordell Walker who is a widower and a father of two. He has been on an undercover assignment and returns back to Austin just to discover that there is harder work back at home. Walker wants to reconnect with his children and navigate ways to deal with his conservative family. He becomes suspicious of circumstances leading to the death of his wife. Also, he could find unexpected commonalities with his new partner.
What is the expected plot of season 2(Part 2)?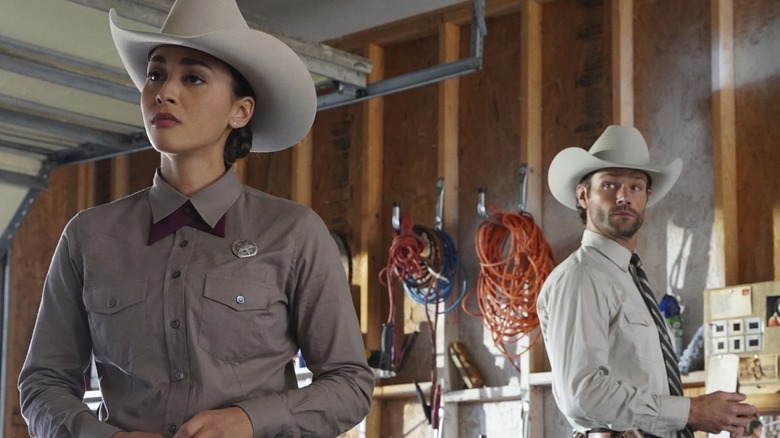 The plot of the second half of season 2 is under wraps. Walker is expected to face a new villain. There can be many plot twists and unexpected incidents that can happen. Walker might even face personal issues, this could be the reason why he needs to re-assess his life choices. Walker may also decide to take a different route altogether for solving cases in Walker Season Two(Part 2).
What can fans expect from the upcoming season?
Fans of the Walker Texas Ranger TV series can expect more action and thrill in part 2 of season 2 of Walker Season on The CW network. They would get a better understanding of the main protagonist Cordell Walker and his life after returning back home with children from an undercover assignment. Also, there would be some interesting twists which wouldn't disappoint viewers at all!
How popular is the series among the audiences?
The series was received well by Walker, Texas Ranger TV show fans. The series ratings for season one of Walker Season one on the CW network have also helped in generating hype around Walker Season Two(Part Two). Walker is considered as one of the best action shows which are currently running on television screens today!
Is the series worth watching?
The series can be watched because they keep you hooked to your seats and need answers just like every other mystery fan out there! This makes it an exciting time pass that anyone who likes mysteries would enjoy no matter what their age group is.
Why do I recommend watching it?
I recommend watching the series because it is a series that will keep you hooked and wanting for more. The first part of season two is still premiering. You shouldn't miss the currently airing episodes. Walker is an action-packed series with many twists and turns that are sure to keep you excited about the next episode. Walker season two(part Two) will be returning soon in 2022 on The CW!
Related article: Stranger Things Season 4 : Coming back to Netflix in 2022!
Related article: Dynasty Season 5 : Releasing soon on The CW!!
Related article: Black Mirror Season 6 : Expected to release in 2022 on Netflix!
We are sorry that this post was not useful for you!
Let us improve this post!
Tell us how we can improve this post?