Don't Look Up: Release date, plot and other details.
Don't Look Up movie is an upcoming American Science Fiction Black Comedy movie, directed by Adam Mckay. The movie is starred Leonardo Dicaprio. Don't Look Up is set to have a limited theatrical release on December 10, 2021. It will then have a Netflix release on December 24, 2021. Don't Look Up is about two low-level astronomers who are struggling to inform people about an approaching comet that will destroy Earth. The trailer of the movie seems promising. Don't Look Up appears to be a movie worth watching. It is one of the movies that I suggest you watch this December. This science fiction is expected to be thrilling. Let's check all the other details of the movie. So, stay tuned!!
What is the exact release date of the Don't Look Up movie? Is it having a Netflix release?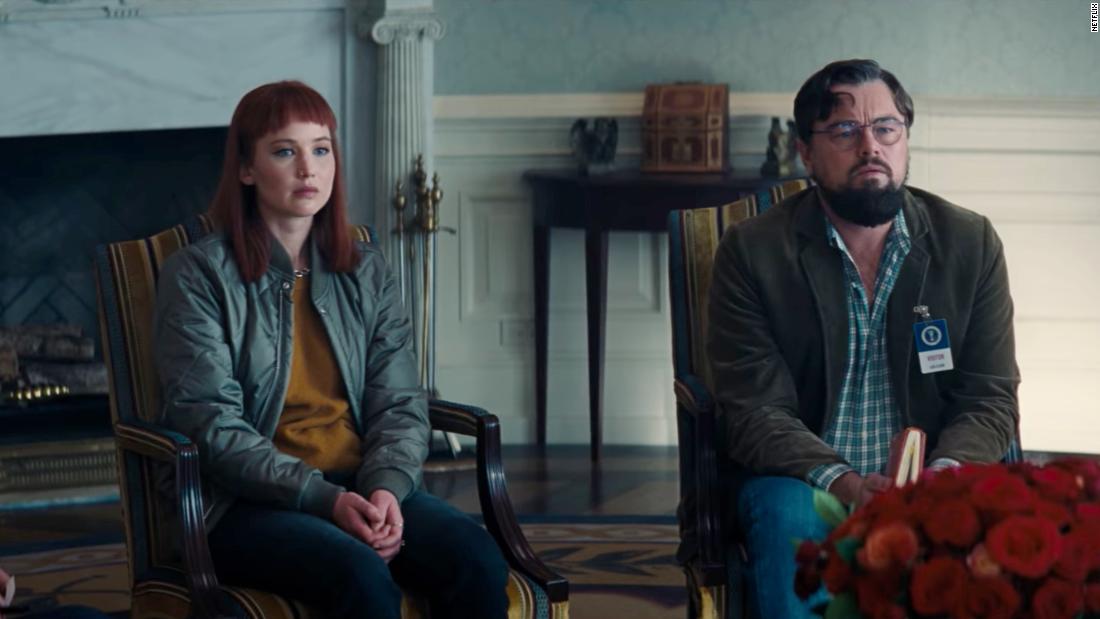 The movie is set to have a limited theatrical release on December 10, 2021. Yes, it is having a Netflix release on December 24, 2021. Aren't you excited to watch the movie? Yes, I guess. This is the movie you shouldn't miss this December. It is having an excellent cast that will amaze you with their acting skills. And Adam Mckay is a fantastic director and so we are assured that the movie won't disappoint us.
Who will be in the cast of the Don't Look Up movie?
It includes
Leonardo DiCaprio as Dr. Randall Mindy
Jennifer Lawrence as Dr. Kate Dibiasky
Rob Morgan as Dr. Clayton Oglethorpe
Jonah Hill as Jason Orlean
Mark Rylance as Peter Isherwell
Tyler Perry as Jack Bremmer
Ron Perlman as Colonel Ben Drask
What is the storyline of the Don't Look Up movie?
The story is about two low-level astronomers Kate Dibiasky, an astronomy grad student, and her professor Dr. Randall Mindy discovers a comet that orbits the solar system. They find out that the comet will have a direct collision with earth. The comet is having the size of Mount Everest that can destroy Earth. The main problem lies in the fact that nobody cares about this danger. The duo tries to explain the possible threat to an indifferent President Orlean and her son Jason. But they ignore what the astronomers have to say.
With the help of Dr. Oglethorpe, they set out for a media tour to inform people through a morning show. There are only 6 months for the comet to hit the earth. The astronomer duo finds all means to inform the social media-obsessed public to make them "Just Look Up". We will have to wait and watch whether their mission to save mankind will prove fruitful or not.
Is the trailer released for the movie?
Yes, the Don't Look Up movie trailer is released. The trailer tries to convey a lot about the movie. I think the movie will be thrilling by watching the trailer. Don's miss Don't Lookup for any reason or else it could be too late, just go ahead and book tickets for Don'T look up today itself.
What is the audience expecting from this movie after watching the trailer?
Fans are expecting the Don't Look Up movie to be a unique kind of science fiction that has never been made before.
Why should one watch Don't Lookup?
This is the first time Leonardo Dicaprio and Adam Mckay have come together on screen, which makes Don't Look up worth watching for this fact alone. Don't Lookup has a unique storyline and it is an upcoming American science fiction black comedy movie, which will be released worldwide.
Is the movie worth watching?
Yes, Don't Lookup has the potential to become a blockbuster hit. It will be worth watching the movie. The movie will glue us till the end of the movie.
Why do I suggest watching the movie?
Don't Look up movie is a perfect blend of science fiction and comedy, which will be loved by all. Don't lookup is directed by Adam Mckay, who has won many awards for his direction.
We are sorry that this post was not useful for you!
Let us improve this post!
Tell us how we can improve this post?